The Nigeria Hydrological Services Agency has announced that there will be flooding in 14 states and urged residents living in flood-prone areas to relocate.
According to the agency, most cities would experience heavy floods due to the rise in sea levels and tidal surge.
The Director-General of the agency, Mr. Moses Beckley, during the public presentation of the 2016 Annual Flood Outlook in Abuja listed likely areas to be submerged as
Ogun

Lagos

Rivers

Calabar

Benue

Sokoto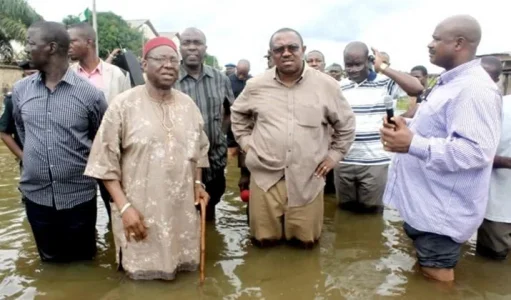 Anambra

Imo

Cross River

Yobe

Osun

Kaduna

Oyo and

Yola.
According to Beckley, "The expected inflows in the country for this year will be lower than that of 2012.
"Meanwhile, the predicted probable flood area coverage in 2016 is expected to be higher than the predicted probable flood as well as the observed value of 2015.
"The expected areas of river flooding this year are located in the following river basins, Niger, Benue, Sokoto-Rima, Anambra-Imo, Cross River, Niger Delta, Komadougu-Yobe, Ogun-Osun and several other sub-basins of the country.
"Some coastal areas such as Lagos, Port-Harcourt, Calabar, etc, are expected to experience flooding due to rise in sea level and tidal surge, while flash and urban flooding are likely to occur in Sokoto, Ibadan, Kaduna, Yola, Maiduguri, Makurdi, Hadejia and settlements/cities along the Nigeria coastal line.