Imams in about 350 Jumma'at mosques in Maiduguri, Jere, Biu and other parts of Borno State led thousands of worshipers to offer special prayers for the speedy and full recovery of President Muhammadu Buhari..
New Telegraph gathered that the plan to offer the special prayers was at the request of Governor Kashim Shettima in appreciation of President Buhari's commitment to the fight against the Boko Haram insurgency which had resulted in the liberation of many communities and relative peace being enjoyed by residents across the state.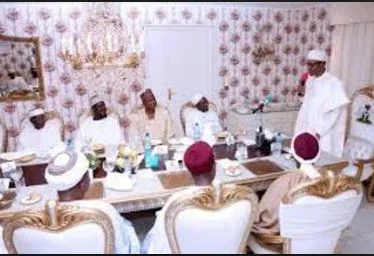 There are 542 Jumma'at mosques in the state but about 350 were estimated to be operating due to present state of populated towns like Bama and many others were Internally Displaced Persons (IDPs) are yet to return to liberated communities.
The prayers were based on a request conveyed by the Chief Imam, Imam Laisu Ibrahim Ahmed, who communicated with all Imams of functional Jumma'at mosques through their different forums which is a long standing procedure of communication between the Chief Imam and Imams of Jumma'at mosques and other Imams in the state.
The Chief Imam mobilised fellow Imams based on letters addressed to him and the state chairman of the Christians Association of Nigeria (CAN), Bishop William Naga, on the orders of Shettima.