Nigeria's President, Muhammadu Buhari, has restated his administration's commitment to dealing decisively and expeditiously with herdsmen that have continued to attack communities across Nigeria.
Here are five important things the president told the members of the Catholic Bishops Conference of Nigeria (CBCN) at the Aso Rock Villa earlier today.
- "We are determined to secure all Nigerians and I have told the Inspector-General of Police and other security agencies, in very strong terms, to deal decisively with the attackers"
- President Buhari expressed his personal condolences to the Catholic Bishop of Enugu, the people of Ukpabi Nimbo and all other communities that have suffered fatalities and other losses from the recent attacks.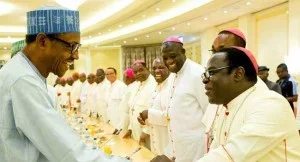 Related: PHOTOS: President Buhari Meets With Catholic Bishops at Aso Rock
- The President assured the Bishops that he was acting with deliberation and moving methodically to implement his change agenda for the good of the country.
- In the last 10 years, crude oil sold for more than $100 per barrel, but Nigeria did not save. That is why we have found ourselves where we are today," President Buhari told the Catholic Bishops, led by Most Reverend Ignatius Kaigama, the Archbishop of Jos.
- The President assured them that his administration was working very hard to fulfill all the promises it had made to Nigerians.