Not fewer than eight wives of state governors whose initiations and pet projects have positively touched the lives of the people have been selected to receive the most covetous awards of the Most Valuable Governors' Wife prize.
Pencilled down for the award slated for February 28, 2017 include
1. Anambra State, Mrs. Ebelechukwu Obiano
2. Bauchi State, Hajia Hadiza Abubakar,
3. Bayelsa State, Rachael Dickson,
4. Kebbi State, Dr. Zainab Bagudu,
5. Nasarawa State, Hajia Mairo Al-Makura,
6. Niger State, Dr. Amina Bello,
7. Lagos State, Mrs. Bolanle Ambode and
8. Oyo state, Mrs. Florence Ajimobi.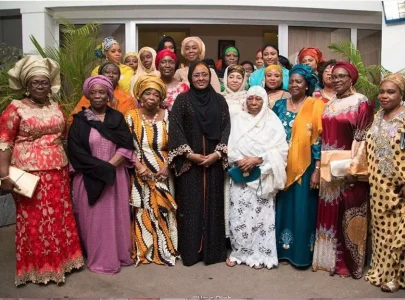 Chairperson of the organising team, Dr. Bilkisu Magoro noted that the theme of this edition of the award is: "The roles of the governors' wives NGOs in helping the Internally Displaced Persons, lOPs, in Nigeria".
She said, "The MVGWA is designed to lead a new phenomenon in the assessment and recognition of the Governors' wives who are providing complementary achievements to the Governors' achievements.
Magoro said "The 36 Governors' wives and the wife of the FCT Minister are assessed based on their projects availabilities in the public domain and their impacts on their beneficiaries are considered.
She added that the award night has a dual highpoint; the awards to the governors' wives and the unique patrons award to the wife of the President of the Federal Republic of Nigeria, Her Excellency, Mrs. Aisha Buhari.