The Nigerian Army has confirmed that it has released 1,250 Boko Haram suspects who have been adjudged not to have any link with the insurgency group.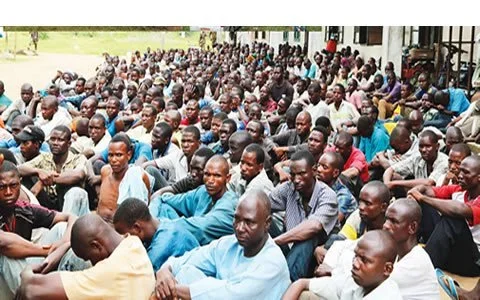 This was announced by Brigadier-General Victor Ezugwu, the General Officer Commanding (GOC) 7 division of the Nigerian Army on Monday, when he was visited by the head of sub-delegation of ICRC, Beat Mosimann, at the Maimalari Cantonment in Maiduguri.
Ezugwu said they were released in seven batches after being cleared.
"We are keeping this regular release because the Chief of Army Staff, Lt.-Gen. Tukur Burutai, want us to ensure that it is only people who have contact and connection with Boko Haram, that have insurgency issues to sort that should be detained so that those who do not have contact should be released," he said.
"By the end of this January and February another batch of detainees would be cleared.
"The ICRC wants us to collaborate in the area of welfare for our detainees and we have assured them that we are going to continue doing our best interns of welfare in accordance with the international practice.
"Our approach in handling detained suspects is multi agency so what we do is we collaborate with NGOs so that once there is gap in what we are doing they will tell us.
"In terms of feeding, we are providing solid Nigerian foods for the detainees; good food supplement that would enhance their wellbeing, access to exercise and the best of accommodation. We are hoping that things will get better in 2017," he said.