The Ebonyi Police Command has confirmed the recovery of remnants of a bomb used during the civil war.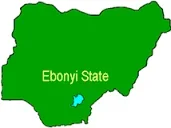 State Police spokesman, DSP Jude Madu, confirmed that the object was a landmine used during the war. "The object suspected to be bomb, which was found in Okposi, was taken for scientific examination in our forensic headquarters, Abuja. It was not as if bomb was planted in the area so to say, it was one of those landmines planted during the civil war.
"Our headquarters has directed that it should be destroyed and it has been destroyed by our bomb section. We have conducted a search to know if similar objects can be found in the area and every other parts of the state and we have not seen any other one.
"Some of these things couldn't detonate in their time. This particular landmine fell into the river and the river continued to move it around until it got to the river bank and somebody saw it and alerted the police. So, it was not a planted bomb."