Nigerian governors, under the aegis of Nigeria Governors Forum, on Friday said they will off-set outstanding salaries and allowances owed their workers as soon as a second tranche of funds from the Paris Club loan refund is released.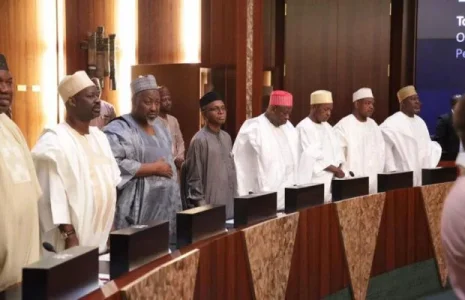 In a statement issued by the forum's spokesperson, Abulrazque Barkindo, the governors said, "The 36 governors last night resolved to offset the backlog of salaries and pension arrears owed civil servants in the country as soon as the next tranche of payment from the Paris-London Club loan refunds are made.
"This decision was arrived at in Abuja at a meeting hosted on Thursday night by the chairman of the Nigeria governors forum and governor of Zamfara State, Alhaji Abdulaziz Yari Abubakar at his Maitama residence.
"The governors met in anticipation of the release of the other half of the Paris-London Club refund which has been gratuitously approved for payment by the Vice-President Professor Yemi Osibanjo. The funds are expected to hit the states accounts within the month.
"The governors who are not oblivious of the hue and cry over the non-payment of the backlog of salaries and pension arrears and the precarious predicament of the Nigerian worker deliberated on the matter and concluded that in order to set the country on the path of growth, something immediate must be done to ameliorate workers plight by offsetting the backlog of their pay and emoluments.
"We all agreed that a substantial amount from the next tranche of the Paris-London refunds be used in the settlement of workers salary and pension arrears."
The first tranche of the Paris Club refund was released for payment of salaries but some of the governors still did not pay salaries to their workers.