The Joint Committees of Information Technology Communication, ICT and Telecommunications in the House of Representatives on Tuesday queried the Minister of Communications, Adebayo Shittu over a comment he made on the suspension of the Director – General of the National Information Technology Development Agency, NITDA Peter Jack over an alleged misconduct.
The minister who appeared before the joint committees, said, "I do not know the reason why I am before this committee, I am blank about this meeting".
He further appealed that he had an international conference to attend begging to take his leave.
Chairman of the Committee on ICT, Mohammed Onawo however explained to him that, "this committee is mandated by the House to look into the perceived injustice done to the DG of NITDA".
He added that the clerk of the committee had told him that the letter was personally handed over to him.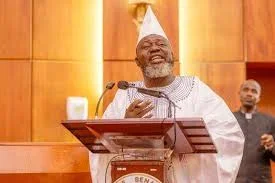 Members of the committee;Rep Wole Oke, Rep Tajudeen Yusuf, Rep Linus Okorie and others speaking separately expressed their displeasure at the Minister's statement saying, "For him to say that he doesn't know why he is here is an insult to the National Assembly.
"Now Mr. Minister knows why he is here, Mr. Chairman may give him another opportunity to re express himself".
"We will not be part of anything that will undermine the National Assembly, "the lawmakers declared.
The minister, who later realised the full weight of his indiscretion admitted receiving the letter of invitation, saying: "I want to apologise for any misconception. A letter was brought to my office yesterday with a heading relating to the suspension of the DG NITDA. And I liaise with my Permanent Secretary to get back to the committee Clerk so as to work out the possibility of re-adjusting the date – given the number of engagements I'm to have with the several groups on behalf of the President.
Vanguard