President Muhammadu Buhari on Friday in New Delhi gave an insight into the shape of his cabinet, saying the country would be lucky if his administration is able to have half the number (21) of the 42 ministers that operated under the last administration.
"I cannot pay all ministers because the country is broke", he said.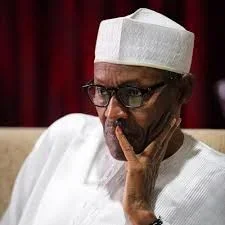 He said he only sent names of 36 ministerial nominees to the Senate for confirmation because the constitution stipulates that each state of the federation must have representatives in his cabinet.
He said not all the 36 nominees would be ministers as some of them would only sit in the cabinet in order to meet that constitutional provision.
Buhari disclosed this in an interview he granted the Nigerian Television Authority and Channels TV shortly before he left New Delhi where he participated in the third summit of the India-Africa Forum.
The President was asked whether his reduction of the number of ministers from 42 as it was under former President Goodluck Jonathan to 36 would result into the reduction of the number of Ministries, Departments and Agencies and eventual purging of the civil service.
Buhari said, "There was no reduction (of ministers) to 36. What the constitution says, and we cannot work outside the constitution, is that there must be a cabinet representative from each state.
"Nigeria cannot pay salaries. The Federal Government itself had to summon the governor of the Central Bank to see how it would pay salaries not to talk of the agreements we signed with foreign countries, counterpart funding and so on.
"This country was materially vandalised and morally so and you are in a position to know even more than myself unless you are testing my knowledge whether I know it or not."
When asked to be categorical on whether the country is broke, Buhari replied, "Of course, Nigeria is broke."
The President denied allegation that his administration had been selective in its anti-corruption war.
Last edited: