The Deputy Senate President, Chief Ike EKweremadu, has said that Nigeria remains the greatest country in Africa in spite of its economic and security challenges.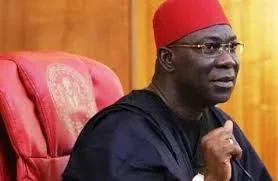 Speaking at a luncheon organised by Governor Ifeanyi Ugwuanyi to mark his one year in office in Enugu yesterday, Ekweremadu said Nigeria had achieved unity in 17 years of unbroken democratic governance and prayed that it would sustain the coexistence among the people.
He commended President Muhammadu Buhari, the military and paramilitary organisations for achievements recorded so far in the fight against corruption and insurgency in the country. According to him, there is now reduction of impunity in the country.
Ekweremadu, however, urged the president to give every region equal treatment in order to give them a sense of belonging.
"I believe that Nigeria will remain united on the condition that everybody is treated equally. Now, politics is gone, the administration should focus more on governance and ensure equity in distribution of appointments and infrastructure. We want to see more of governance in the Southeast and the South-South. The people want to see more appointments in the South-east,'' he said.
Ekweremadu also commended Governor Ugwuanyi on his achievements so far and urged him to sustain the tempo of development.
(NAN)