An Islamic cleric, Kazeem Alimson, popularly known as Alfa, has been arrested for murdering 3 year old Chiagozie Okereke with a stone for ritual purposes.
The harrowing event happened at White Sand area of Isheri-Oshun Lagos. A 15-year-old teenager Simon Kanu, was arrested along with the cleric. He confessed that he was paid N500 by the Alfa, to bring the child.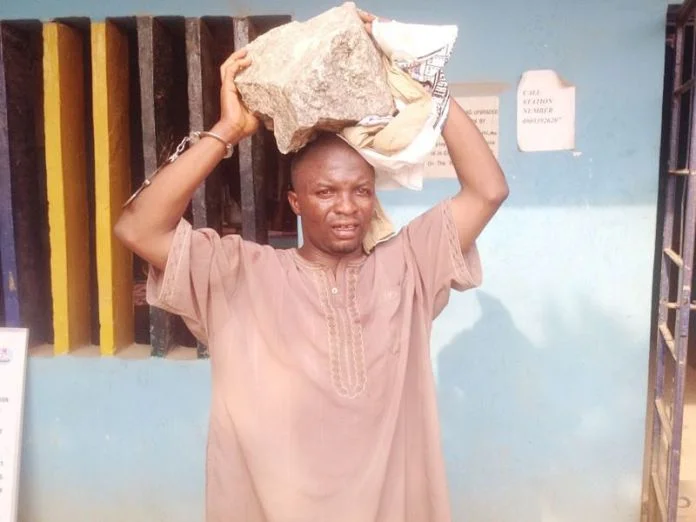 Photo: The cleric with the stone he used to kill the boy (Credit: Thisday)
The kid just returned back home safely from surgery three weeks ago. Narrating how her bundle of joy was stolen, Mrs. Chinasa Okereke, the mother of the kid said:
"At about 7pm yesterday (Tuesday), I brought my children out to bathe. When I finished bathing the younger one, I went inside to get a wrapper to strap him, to enable me bathe the other child.
"But on getting outside, I didn't see my baby again. The sister said he went into my neighbour's house but I didn't see him there and when I asked, they said he went out with Simon.
"I called my son's name but there was no response. Later, we saw Simon that night, I asked him about the whereabouts of my son, he said he did not see him.
"It was yesterday that I learnt that Simon took my son to where he was strangled with his shirt and stoned to death. He was my third child. I feel so hurt. My heart is broken. I need justice."
ThisDay