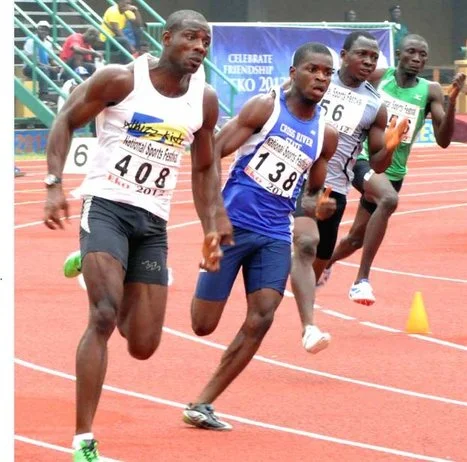 Former Nigerian sprinter Seun Ogunkoya has lamented the dearth of talents in Nigerian athletics,adding that much is not being done to aid the development of the sports.
The Nigerian men seems to be worse off,playing second fiddle to the women with the likes of Blessing Okagbare,the women's 4x400m relay teams making their mark in major competition.
At the just concluded African Athletics championship in Marrakech,Morocco, it was same of the same for the Nigerian men who struggled yet again.
Ogunkoya who during his days was a force to reckon with,even running a sub 10 in the 100m,said that the failure to develop young talents can be blamed for the poor showings of the men.
"We are just paying lip service to athletics development here," said Ogunkoya.
Olusoji Fasuba is the last Nigerian male athlete to have really made an impression,doing 9.85secs in Doha.
"Between that time and now what have we been doing? Does it mean that there are no longer talents in Nigeria? Must we now be pinning our hopes on only one woman?"
Ogunkoya placed the blames on the doorsteps of the Athletics Federation of Nigeria(AFN) adding that they have not much to encourage local athletes.
"We still have sprinters like me out there in the grassroots. This is why I have taken to coaching and my aim is to produce another quality runner just like me and also to honour late coach Akinyemi who was like a father to me.
"So far I have two boys and one girl I am training. They are doing well but I found out that, those in authority do not pay attention to what the coaches are doing and they seem not to care how the young athletes are groomed.
"Imagine the last golden league in Warri, some junior athletes including mine were not allowed to run.
" These athletes paid their way to the place on the premise that they will compete based on their previous performances in the golden league only for them to be denied. This is not very good for the growth of these youths," Ogunkoya was quoted as saying on Vanguard Sports.