The Minister of Transport, Mr Chibuike Amaechi, has restated the Federal Government is planning to float a new national shipping line.
The Minister stated this at a Maritime Technical Summit in Lagos.
Amaechi explained that the new national carrier of ocean-going vessels will not be funded via the cabotage vessel financing fund.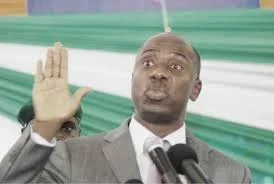 Mr Ameachi says he would be holding a meeting next week with some experts in maritime industry and ship owners to arrive at decisions on establishing the national carrier.
Nigeria's national carrier called the "NNSL" established in the late 1970's was ran aground.
In its place was a successor called the "National Unity Line", which also lasted only a few years and had since collapsed.