The Minister of Transportation, Mr. Rotimi Amaechi, appeared before an ad hoc committee of the House of Representatives on Tuesday and said he had no information on the contracts for the rehabilitation and modernisation of railway in the country.
According to PUNCH, the railway contracts reportedly gulped over N1tn between 2010 and 2015, with additional funding from the rested Subsidy Re-Investment and Empowerment Programme.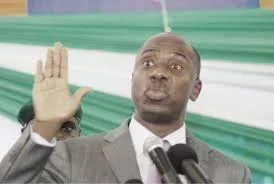 But Amaechi told the committee, which is chaired by a lawmaker from Edo State, Mr. Johnson Agbonayinma, that he would not be useful to the investigation because he was not in the office when the contracts were awarded and could not speak authoritatively about them.
"I don't know about the past contracts but I can talk more on our progress and what we are doing now," the minister said