The Emir of Kano, Malam Muhammad Sanusi II, has advised Nigerian men to accord respect, justice, fairness, and mutual understanding to their wife and children
Emir Sanusi said it is the only way out of the myriad of problems bedevilling the institution of marriage in the society.
Speaking at an event tagged Kano Social Reform Project, organized by the Women's Right Advancement and Protection Alternative in conjunction with the Centre for Gender Studies, Bayero University, Kano (BUK), Dailytrust said Emir Sanusi decried "growing violence and maltreatment of women and children".
The Emir said any society yearning for growth and development, must find a way of treating women and children fairly and just, pointing out that, Islam abhors any form of discrimination, maltreatment and injustice against humanity.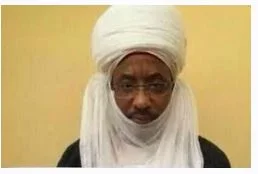 This, he said, formed the basis for his agitation for the promulgation of laws that would enforce strict compliance with the doctrine of Islamic sharia such as violence against women and children particularly.
"A situation where an adult married a girl and gruesomely maltreats her is untenable, even as it is un-Islamic and must be condemned by all men of goodwill. We are not saying that a person has no right to marry a minor or teenager, but, what we are saying is that any husband must treat his wife or wives with respect and dignity in accordance with the religious injunctions," he declared.
Islamic scholars from different sects and health experts presented position papers on their views and the way out.
- Dailytrust