State governors are still spending billions of naira from public funds on foreign trips in the name of seeking foreign investors, despite the cash crunch facing their states.
Some of them, whom are still owing up-to 3 to 5 months workers' salaries expended state funds on junketing around the whole in search of foreign investors.
Daily Trust investigations showed that about 25 governors have travelled abroad at an average of 10 times in the quest for investors since May 29 when they came to office.
The governors, usually with large entourage that include close aides and family members, spend fortune from their cash-strapped treasuries on first class airlines tickets, luxury hotels, estacodes, among others.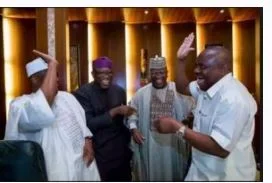 Among the most traveled governors are:
Nasiru el-Rufai
(Kaduna), United Kingdom, Singapore, Saudi Arabia, China and France
Akinwunmi Ambode
(Lagos) - embarked on a number of foreign trips only few attracted media attention
Aminu Tambuwal
of Sokoto - Uganda, Saudi Arabia, Italy, China, Niger and the USA
Abdullahi Ganduje
(Kano) - Saudi Arabia three times, USA once, Dubai twice and India once
Rochas Okorocha
(Imo) - China and Turkey twice; Ireland and Kosovo once and China thrice from May 2015 to date.
Simon Lalong
- Plateau - 6 foreign trips to Brazil, Israel, China, Dubai so far but all without any official announcement to that effect.
Ibikunle Amosun
– Ogun state - 10 foreign trips across Europe, Asia and Africa
Aminu Masari -
Kastina India and Dubai – led state delegation of Five-day visitation
Muhammed Abubakar
– Bauchi Czech Republic, the United States and China
Abdulaziz Yari
of Zamfara state – dozen foreign trips in the last one year
Abiola Ajimobi
Oyo state - United States of America, United Kingdom, China, Canada, Lebanon and many other countries of the world within the last one year.
Mohammad Badaru Abubakar
Jigawa - China, Saudi Arabia and France.
Analysis of the trips shows that most of the trips are personal visitation of family members, medical checkups, vacations, among others.
The recurrent destinations of the state governors include United Arab Emirate, Saudi Arabia, United Kingdom, United States, China, Australia, South Africa, India, France, Israel, Singapore, Malaysia