Members of the Senate Unity Forum and the Like-minds, at the weekend, clashed over the calls for the resignation of Senate President Bukola Saraki over the Supreme Court judgment on the code of conduct tribunal.
Saraki is facing a 13-count charge bordering on false assets declaration as governor of Kwara State between 2003 and 2011.
At the weekend, after the Supreme Court judgement, members of the Unity Forum asked Saraki to resign his position and concentrate on his CCT case.
Speaking to DailyTrust, spokesperson of the Forum, Senator Kabiru Marafa (APC, Zamfara Central), said the call for Saraki's resignation was beyond members of the Unity Forum.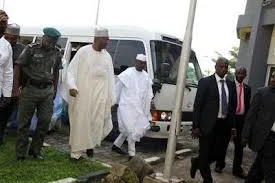 "What is happening in the CCT is personal to Saraki. It has nothing to do with his position as the Senate president. It has now reached the time when he should take a bow to enable him concentrate on his case at the CCT."
But the spokesperson of the Like-minds, Senator Dino Melaye (APC, Kogi West) lambasted Marafa, over his comment.
He said: We are optimistic that what is happening is not against Saraki as an individual, it is against the Senate as an institution. We will defend the Senate and we will no longer fold our arms on the issue. We know that at the end of the day, we shall come out stronger.
Source: DailyTrust