The Nigerian Civil Aviation Authority (NCAA) has suspended the operation of the Bristow Helicopters Limited's Sikorsky S-76X++ type indefinitely.
The Helicopter ditched inside the high sea around 10 a.m on Wednesday with 11 passengers including two crew members on board.
According to DailyTrust, it is the same type of Helicopter also operated by the company that was involved in a crash on August the 12th, 2015 killing six of the 12 souls on board.
Due to frequency of the crash involving the aircraft type, the NCAA decided to wield the big stick and suspended the operation of the series to enable it carry out a full scale audit on its operations with particular emphasis on its Sikorsky S- 76C++ type.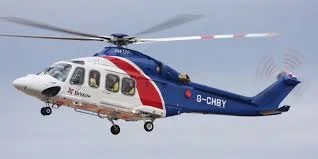 Director General of NCAA, Capt. Mukhtar Usman who briefed newsmen at the NCAA annex at Murtala Mohammed International Airport said the authority viewed "with utmost seriousness the successive mishaps of Bristow Helicopters' operating aircraft Sikorsky S- 76C++ on the coastal waters of Lagos".
He however explained that the suspension of operations of the company does not represent a vote of no confidence on the company but to ascertain the adequacy and propriety of the operating aircraft type.
"This is not new in the industry, it is one of the Standard Operating Procedures (SOP) all over the world", Usman said.
- DailyTrust