The Minister of Science and Technology, Dr Ogbonnaya Onu, says research is in progress to produce cement for road construction in the country.
Onu said at a News Agency of Nigeria (NAN) forum in Abuja yesterday that production of indigenous cement for road had become necessary due to the way some asphalt-built roads get damaged, causing hardship to road users.
"We've asked the Nigerian Building and Road Research Institute (NIBRRI) to commence research in concrete because we have seen that using asphalt on our roads has not been much enduring. It is something that many of the advanced countries are already using but the reason for our research is that we want to study how we can make it have the Nigerian character," Onu said.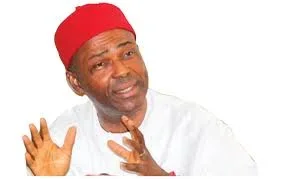 The minister said the National Research and Innovation Council (NRIC) which has President Muhammadu Buhari as the chairman,15 ministers and other key stakeholders would make significant impact in promoting innovations in the country.
"We want a situation where Nigerian scientists and engineers are creative and innovative. We want them to also be successful and prosperous. You have Nigerian scientists and engineers in virtually all the major research institutes in the world, these are the people we can also attract home," he said.
- NAN