The United Nations and the International Red Cross and Red Crescent Movement have asked the Nigerian government to ensure the unfortunate incident of Tuesday where dozens of civilians were killed by a military bomb does not reoccur.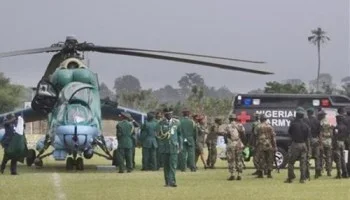 In a statement on Wednesday, the UN also called on the Nigerian government to ensure a thorough probe of the attack.
The global body, in a statement issued by the Office of the UN Secretary-General, also called for greater measures to protect civilians in the areas of military operations against Boko Haram insurgents.
"UN humanitarian officials are also questioning how a military airstrike ended up striking the displacement camp.
"Intermingled with messages of sympathy and solidarity with the victims, UN agencies called for a full investigation and greater measures to protect civilians going forward," the UN said.
In its message, the UN Children's Fund, UNICEF, stressed the importance of protecting civilians in complex humanitarian emergencies.
"UNICEF stands in solidarity with our humanitarian colleagues, and the dangerous conditions they work in.
"The aid workers who lost their lives were working to save others," UNICEF Director for Emergency Programmes, Manuel Fontaine, said.
Amid outpouring of sympathy, UN emergency responders have continued to aid the bombed Nigerian camp, he said.
In its statement on the incident, the Red Cross, ICRC, confirmed that six of its officials were among the dead.
Despite the tragedy, the International aid agency said it has since mobilised personnel to Rann to strengthen rescue efforts there.