The Code of Conduct Tribunal (CCT) on Wednesday upheld the no-case submission made by the Senate President Bukola Saraki thereby discharging him of the false and anticipatory asset declaration charge leveled against him by the Federal Government.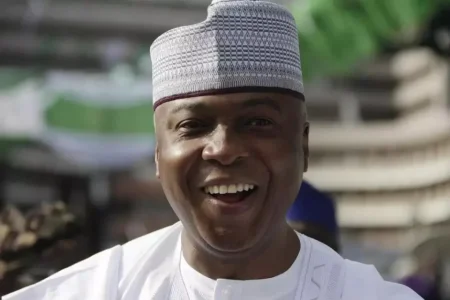 The Tribunal Chairman, Danladi Umar while delivering ruling on Saraki's no-case submission held that the prosecution did not established a prima facie case against Saraki to warrant requesting the Senate President to enter a defence.
They prayed the tribunal to dismiss the case, on the grounds that the prosecution failed to link Mr. Saraki with the charges.
In his ruling on the application, the CCT said the failure of the prosecution to present witnesses who were fully part of the alleged offence against the senate president, made their evidence "incurably defective".
An official of the Code of Conduct Bureau, Samuel Madujemu, had appeared in the tribunal to testify regarding the bureau's findings which resulted in the alleged offences.
Mr. Madujemu had stated that the evidences he presented in the tribunal were based on information provided by the bureau's investigation team.
Another member of the tribunal's bench, William Atedze, said it was unlawful to depend on the word "team", for the presentation of an evidence, since the law does not recognize "team" as a source of evidence.
He said the evidence alluded to in any court of law should only be given by "a witness who saw, heard or took part in the transaction, upon which he is testifying to".
"The evidence is incurably defective. The prosecution has failed to link the defendant with the alleged offence," Mr. Atedze said.