Former aide-de-camp to former president Goodluck Jonathan, Col. Ojogbane Adegbe has said another Dasukigate may be imminent if he reveals what transpired in that administration.
The Economic and Financial Crimes Commission (EFCC) picked up Adegbe on Wednesday in Lagos where he was interrogated before he was flown to Abuja yesterday.
Related: Arms Deal: Jonathan's Ex-ADC Arrested, Interrogated at Abacha Barracks
Daily Sun gathered that ongoing interrogation of the former ADC by operatives of the EFCC could open up a new can of worms, which "could surpass what is now called Dasukigate."
The money, meant to purchase arms for the military fighting insurgency in the North-East, was allegedly diverted by the office of the NSA as 2015 campaign funds for the Peoples Democratic Party (PDP), which was the ruling party then.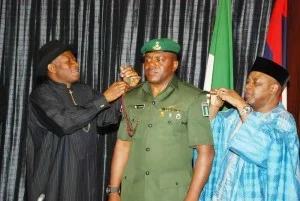 EFCC sources said the former ADC may soon give details of all he knows with regards to financial transactions and the dramatic personae involved in the last administration.
Preliminary findings, including recovered documents, were said to have hinted of large-scale questionable expenditure with funds sourced from and outside the arms purchase deals.
Another source said "most of the funds were reportedly diverted soon after the election was postponed from the originally scheduled date of February 14, 2015 to March 28, 2015…"
Source:
DailySun