The Movement for the Actualization of Sovereign State of Biafra, MASSOB, has accused President Muhammadu Buhari of witch-hunting pro-Biafra agitators while the country continues to depreciate.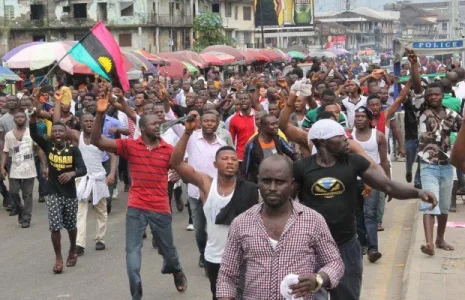 The group said Nigeria will soon be deleted in order to give way for the emergence of Biafra.
MASSOB made the accusation while reacting to Buhari's recent pronouncement that, "anybody who wants to leave Nigeria is free."
Buhari had made the declaration while meeting Niger Delta leaders and Stakeholders on how to resolve the crises in the oil rich region.
Reacting to the President's declaration, the secessionist movement likened Buhari to the Biblical Pharaoh, saying all those against the actualization of Biafra will face the consequences.
In a statement the group leader, Uchenna Madu, said, "The Federal Government is busy, chasing, witch-hunting and killing Biafrans and agitators, while the country is collapsing, and will soon go into extinction because of clueless and directionless leadership.
"President Buhari's statement that anyone, who cherished another country can leave Nigeria is not something to be cheerful about, celebrated and in any way heartwarming. MASSOB views it as part of Pharaoh's subtle way of mocking the Hebrews-Biafra.
"MASSOB and other pro-Biafran groups will continue to remain non-violent and focused, while watching the calamitous earthquake that will befall the Nigeria state because of the hardening of President Buhari's heart against Biafrans.
"We will continue to be loyal to Dim Chukwuemeka Odumegwu Ojukwu's principles, vision and legacies; and continue to revive and refresh the consciousness of Ojukwuism in the minds of every Biafran."