Weeks after it was reported that boko haram terrorists now have a new uniform, the Nigerian army has finally spoken on the matter.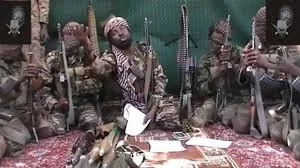 Spokesman of the Nigerian Defence Headquarters, Brigadier Rabe Abubakar, in a statement on Friday said, "As a result of ongoing onslaught against the Boko Haram terrorists in Sambisa forest, the terrorist group has now devised a means of identifying themselves. In this regard, the Boko Haram now wear uniform to blend among locality undetected where they sadly carryout their heinous crime.
''The recent apprehension of 2 Boko Haram terrorists in uniform near Dikwa in Borno State, is a pointer towards this direction While the military would sustain the current tempo to further decimate the terrorists, the military is advising the recalcitrant remnant Boko Haram to surrender now and get humane treatment in line with the world best practice. The members of the public are hereby urged to be wary of this new development and be always alert. Any suspicious persons or object should be reported promptly to the security agencies."