The Sambisa forest, beginning from 2017 will serve as training ground for personnel of the Nigerian Army, Lt.-Gen. Tukur Buratai, the Chief of Army Staff, has announced in Damasak.
The News Agency of Nigeria (NAN) that Buratai was in Damasak to celebrate the Christmas with troops of 145 Battalion after the road leading to the town was reopened by Gov. Kashim Shettima, three years after closure.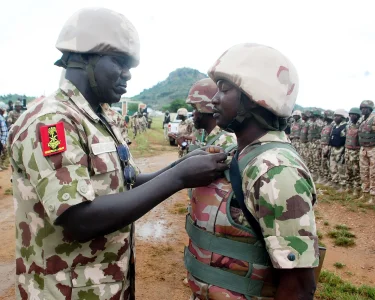 The army chief said that troops were already conducting a mop up operation in the forest after the last strong hold of the Boko Haram terrorists was captured.
"We are also opening up roads to the forest – Sambisa, as well as Alagarno forest. This Sambisa forest is going to be one of our training grounds.
"Next year, 2017, I have already directed that we should conduct our Nigerian Army small arms championship in that forest.
"And we are going to use it also to test fire our fighting vehicles, as well as other key equipment and weapons that requires testing firing whenever we want to induct new weapon and equipment into the Nigerian army inventory", he said.