Former Super Eagles captain, Kanu Nwankwo, has called the attention of the general public to the refusal of AMCON to respect court orders by refusing to release his hotel located in Lagos to him.
Kanu's property, known as Hardly Apartment Located at Victoria Island, Lagos, has been put under temporary possession of AMCON.
The property was siezed on account of purported indebtedness which remains unproven since November 2015 till date.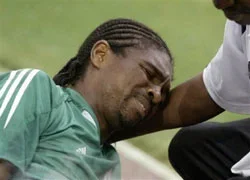 via Daily Post Nigeria –
http://ift.tt/2rgarXd
Get More
Nigeria Metro News
Last edited by a moderator: