Nigerian judges have been fingered in the ongoing crisis in Gambia.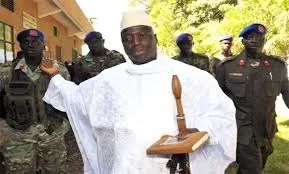 Gambian lawyers and members of the opposition have accused President Yahya Jammeh, of using "mercenary judges" from Nigeria, and other officials sent as technical assistants to the country's judiciary, to hound dissidents.
A statement by the Gambian Bar Association, GBA and other activist groups, argue that by unanimously annulling the election, Mr. Jammeh usurped the role of the country's Supreme Court, flouted the tenet of the constitution and possibly committed treason.
"While under normal circumstances the right to petition against election results does exist, the situation in the Gambia now, is that there is no constituted panel of the Supreme Court."
"The GBA notes with concern that since May 2015, there has not been a sitting Supreme Court session due to the absence of a panel. This is despite several reminders issued to the Chief Justice by members of the Bar. In the circumstance; it would be against the principle of natural justice to for the outgoing President to appoint Supreme Court judges to hear a Petition filed by him or on his behalf," the statement added.
Jammeh recently dismissed the only two permanent Supreme Court judges, Sallieu Taal, former Vice President of the Gambian Bar Association. The lawyers' association claimed that the recent announcement that six judges, five from Nigeria and one from Sierra Leon, have been appointed to the Gambia's Supreme Court, is fraught with suspicion. The association of lawyers claimed that Mr. Fagbenle did not disclose their appointment until Mr. Jammeh's challenge of the election was filed in court.
The six judges are: Habeeb A. O Abiru, a justice at the Court of Appeal in Jos, Akomaye Agim, a former Chief Justice of the Gambia and presently assigned to the Abuja division of the Court of Appeal, Abubakar Datti Yahaya, also of the Abuja division of the Court of Appeal, Abubakar Tijani, a former Chief Judge of Jigawa State and presently attached to the Lagos division of the Court of Appeal, and Obande Festus Ogbuinya of the Abuja Division of the Appeal Court. The sixth judge, Nicholas Colin Brown, is a Sierra Leonean.