Macron's victory in the French polls was a rude awakening for young Nigerians who had become accustomed to dusting the shoes of the country's most powerful men. With Macron's victory, young people in Nigeria suddenly realized they should be doing more than carrying briefcases, trolling political opponents and defending the indefensible actions of the ageing political elite.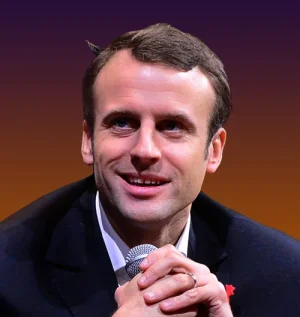 Last week, France elected Macron, its youngest leader since Napoleon, whose election sparked excitement, debates and mild soul searching amongst young Nigerians.
"We should be leaders of today, not waiting for tomorrow,'' many postulated.
So many questions were raised by young Nigerians after Macron's victory, the most dominant being – "Can Nigeria Have A Macron?'' "Is a young leader the answer to Nigeria's woes?''
Nigeria, like several other African countries is run by an ageing elite. These ageing elites comprise of recycled leaders who refuse to vacate the political scene for emerging younger leaders.
In Nigeria, young people under 30 account for nearly 60 percent of the population. Worldometers peg the median age of the Nigerian population at 18 years, whereas Nigeria is currently governed by a 74-year old grandfather.
WHY NIGERIA CANNOT HAVE A MACRON
Constitutional Approach:
Constitutionally, Nigeria cannot have a Macron. However, we most certainly can have a leader who is just one year older than Macron. The 1999 constitution prescribes that for qualification into the office of President, a candidate must be 40 years and above.
''
131. A person shall be qualified for election to the office of the President if -
(a) he is a citizen of Nigeria by birth;
(b) he has attained the age of forty years; '' –
NIGERIAN CONSTITUTION
There has been moves to amend that section of the 1999 constitution; nonetheless, until that is done, Nigeria will never have a President under 40 years of age.
Political Terrain
Nigerian politics thrives on hooliganism and mass bribery. Unlike the political landscape in France, where every candidate comes with their ideals, Nigerian politics is every man and his goons. Those calling for radical political change in Nigeria often meet their maker a tad too early. Remember the deaths of Dipo Dina [DD Direct] and Professor Ayo Daramola?
If you survive the violence, another major barrier is funding. Political campaigns here are very expensive. Laws on campaign funding in Nigeria are shoddy. As a result, politics is exceptionally difficult as voters are expecting noodles, bar soaps, rice and cash in exchange for their votes. A lot of Nigerian voters, especially those in rural areas do not care about campaign promises. The only thing that matters to such voters is how you can fill their stomach.
A Macron in Nigeria may not even be able to raise money for his nomination form. He may be forced to toe in the steps of President Muhammadu Buhari and obtain a bank loan. What if he doesn't have a farm and cows for collateral? What if all he has is a burning desire to change Nigeria?
Often times, the only way to get funded is to collect funds from same corrupt politicians, whose cronies you're trying to retire.
Requisite experience/Cultural barriers
In Nigeria, citizens don't grow up fast enough. The system is designed to retain the citizens as babies until old age approaches. Macron was done with his education and already had a career before he turned 30. At 24/25, a lot of Nigerian youths are still struggling to get into tertiary institutions and are very heavily dependent on parental support. Those who manage to get an education early enough are often stuck in low paying jobs for a long time.
It's also difficult for the average Nigerian youth to get quality political experience required for the top job. Youths here are expected to be social media warriors or thugs for the ageing political class. They are expected to spend their youth on social network and in television stations defending their aged principals.
WHY YOUTH MAY NOT BE THE ANSWER
Tried and Failed
Before Democracy, most of Nigeria's military Heads of state were fairly young. Yakubu Gowon was Military Head of State at 32, General Murtala Mohammed at 37 and Olusegun Obasanjo at 39. Muhammadu Buhari and a few of the others were in their very early 40s, however, these men all contributed to the destruction of Nigeria. They redefined the meaning of 'Nigerian youth' and have since remained kingmakers.
The Nigerian education sector, which once attracted international students, is now in shambles, patronized only by the poorest in society. Nigerians were previously welcomed everywhere, but the country's reputation has now diminished. Nearly every sector of Nigeria witnessed a downturn when run by men who were supposed to our Macron.
The Nigerian constitution may not support a Macron President, but it permits such at other levels of government. Constitutionally, at 35 years and above, one can vie for the office of governors and senate, as well as House of Representatives and state Houses of Assembly at 25 years and above.
Present day Nigeria has also given youths opportunities; at the State level, Nigeria has had some very young state governors. Examples: Orji Uzor Kalu was Abia Governor at 39, Donald Duke was Governor of Cross River at 38, Chimaroke Nnamani was Enugu state governor at 39, Ibrahim Turaki was Jigawa State Governor at 36, Gabriel Suswam was Benue state governor at 39 Timipre Sylva was Bayelsa state governor at 39.
Dimeji Bankole was speaker of the House of Representatives at 37 and Dino Melaye was 33 when he got into the House of Representatives.
We have all seen each of the politicians listed above behave like the older politicians. Their actions were enough to cement the popular quote, "age is just a number'' in the minds of Nigerians. The value of lives in their states and constituencies didn't improve. Nearly all the above-listed politicians were involved in one major corruption scandal or the other. They considered the opportunity given to them to serve, a chance to build up their reserves and cement their position in the club of political elites. They treated public service like a get-rich venture.
A look at the Students' Union Government [SUG] in Nigerian tertiary institutions, further reminds one that young Nigerians are not the answer. Just like the Nigerian government, SUGs are plagued with tales of abuse of power, corruption and daylight robberies. SUGs are all about quick money; this same attitude is what they take into higher political offices.
Patronage system
Contrary to popular beliefs, Macron is an establishment kid, not a 'nobody' - oops! Did I break your heart? His parents may not have held political office, but he was raised in all the fine ways and privileges of the establishment. He was also a part of the Socialist party for a very long time. Most Nigerian youths who are currently close to corridors of powers are likely thieving ex-student union leaders, offspring of the same politicians who ruined Nigeria.
Establishment politics is also a big deal in Nigeria [system of parents in politics, grooming their kids to hold office]. The Practice has already begun – Examples: Erhiatake Ibori's daughter of former Delta State Governor, James Ibori; Dele Ajomale, son of tAPC State Chairman, Henry Ajomale and Folajinmi Jubril Lai-Muhammed, son of information minister Lai Mohammed are all lawmakers.
More youth participation in Nigerian politics will definitely see to a rise in established kids taking power. In a society without sufficient checks and balances, how different will they be from their parents?
Last edited: