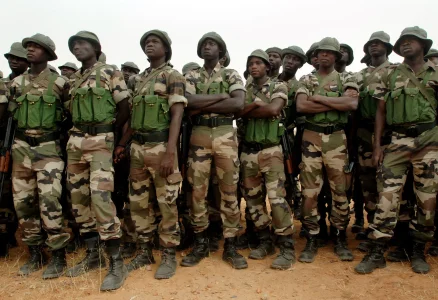 The Nigerian military on Friday announced that a cache of weapons in a terrorist cell were recovered from Balmo Forest in Borno State.
The military had on Monday announced the capture of the large forest from Boko Haram insurgents.
The Director of Defence Information, Chris Olukolade, in a statement said the "mopping up operations in Balmo forest is yielding more discoveries of arms stockpiled in underground cells in the forest."
He said troops evacuated 10 rifles along with parts and accessories as well as more than 80 General Purpose Machine Guns.
Others, he said, include tubes of rocket propelled grenades and launchers, cables, wires and thousands of rounds of assorted ammunition.
He said the troops also recovered uniforms of various security agencies including their protective clothing.
Mr. Olukolade said suspects captured in the forest have been taken into custody and are volunteering information linking the activities in the forest with other terrorist activities in the country.
He according to Premium Times also added that mopping operations in the areas woild continue.
#BokoHaram #Borno