The Nigerian Navy is a branch of the Nigerian Armed Forces which is among the largest Navies on the African continent, consisting of several thousand personnel, including those of the Coast Guard.
It is structured into a Naval Headquarters made up of the Office of the Chief of Naval Staff and 8 other staff branches each administered by Chief of flag rank.
These branches will be explicitly listed below:
Naval Engineering


Policy and Plans


Logistics


Training and Operations


Naval Safety and Standards


Administration


Office of the Navy Secretary


Account & Budget

There are 5 commands headers of FOCs and 5 self Governing units,these commands are made up of 3 operational commands namely below:
Western


Eastern


Central Naval Commands

Related: See The Salary Structure of the Nigerian Army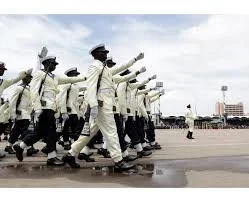 These commands above are responsible for the protection and policing of the nation's maritime environment; a Naval Training Command and a Logistics Command.
The Self Governing units are the Nigerian Naval Dockyard , Nigerian Naval Shipyard , the Naval Ordnance Depot, Nigerian Navy Holdings Limited, Naval Doctrine and Assessment Centre.
The Nigerian Naval Dockyard and Nigerian Naval Shipyard carry out third line maintenance and docking of Nigerian navy ships while the Naval Ordnance Depot stores Nigeria navy arms and ammunition and a limited storage for the NA, NAF and some paramilitary units.
These units and facilities mentioned creates and give room for the Nigerian navy to maintain the fleet for sustained operations.
Nigerian Navy Salary structure 2016 for top ranking officers
—
Nigerian Navy officers under Admiral rank earns N16,303,140
—Nigerian Navy officers under Vice Admiral rank earns ₦13,363,229
—Nigerian Navy officers under Real-Admiral rank earns ₦12,038,945
—Nigerian Navy officers under Commodore rank earns ₦7,385,856
—Nigerian Navy officers under Captain rank earns N3,715,859
—Nigerian Navy officers under Commander rank earns ₦3,380,086
Nigerian Police Force Salary Structure
Source:
www.navy.mil.ng/structure