The Operation Octopus Grip of the Nigerian Navy in Warri, Delta State has uncovered some illegal oil operations in the region.
The operation, on Thursday, discovered about 30 hectares of land used for illegal refineries at the Bennet Island in Warri South West Local Government Area of Delta State.
Alhassan said the illegal refinery camp is believed to have been re-established two weeks after it was destroyed. Various items like drums, pipes, polluted environment, storage facilities were discovered at the camp.
Commander NNS Delta, Commodore Ibrahim Dewu said the illegal refiners stole the camp from an abandoned wellhead and the illegal camp has an interconnection of pipelines from all oil companies passing through Bennet Island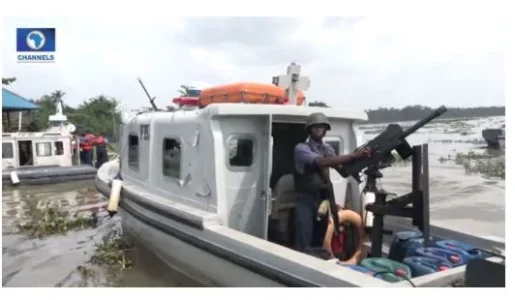 FOC Central Naval Command, Rear Admiral Abubakar Bello Alhassan speaking concerning the illegal operation at the Bennet Island said some arrests have been made and the suspects handed over to the EFCC.
"We have made some arrests and we have handed over to the Economic and Financial Crimes Commission," he said.
Exercise Octopus Grip was flagged off in November 2017 with a sea exercise in the first phase.