Nigerian officials in UAE have been asked to declare assets following the President Buhari's agreement with His Highness Shaikh Mohammed bin Zayed Al Nahyan, Crown Prince of Abu Dhabi and Deputy Supreme Commander of the UAE Armed Forces on recovery of stolen funds in the country.
Nigeria has sought a declaration of assets from its UAE-based officials, according to a report.
It was reported widely during the week that Nigerian President Muhammadu Buhari has given the Nigerian embassy in the UAE until March 31 to compile a list of all current and former officials with assets in the country.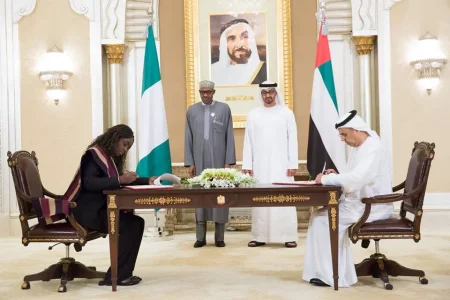 In a Sahara Reporters story published on January 22, the website claims to have been given a list of prominent Nigerians with assets in the UAE. Among the names included were that of former First Lady Patience Jonathan, former comptroller-general of customs Abdullahi Dikko, former petroleum minister Diezani Alison-Madueke, and former attorney-general and minister for justice Mohammed Bello Adoke.
The news comes less than a week after, to discuss ways in which to strengthen bilateral relations.
On the same day, UAE Minister of Justice Sultan bin Saeed Al Badi and his Nigerian counterpart Abubakar Malami signed four agreements, including an agreement on mutual legal assistance in criminal affairs and agreement on the extradition of criminal fugitives.
Source:
KhaleejTimes