A suspected madman was arrested by the Operatives of the Rapid Response Squad, RRS, of Lagos State Police Command with 22 Automatic Teller Machine, ATM, cards, two mobile phones and power bank in along Ozumba Mbadiwe Road, Victoria Island.
The man, who identified himself as Lanrewaju Jaiyeola, 39, was intercepted by the police after the suspicious manner he carried a backpack.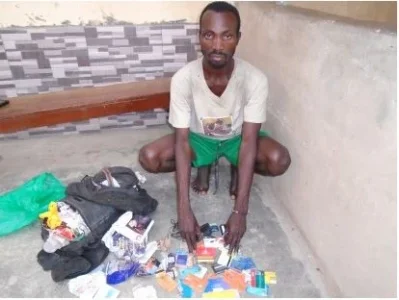 A reliable police source said 22 assorted credit cards, one Nokia phone, a blackberry, a power bank, several bank tellers of recent bank transactions and lots of invoices, amidst numerous pieces of papers, were found on him with some will expire in 2018 and others 2017 and 2016 with different names and of various banks.
According to the RRS Commander, ACP Olatunji Disu, the suspect made "statements suggestive of somebody disguising as a mad man to perpetrate crime around that axis."