The Nigerian senate has rejected a bill designed to grant women the same marital rights as their husbands.
Ali Ndume, senate leader, urged Nigerians to stick with either religious or traditional marriage while making contribution to the debate on 'A Bill Seeking Gender Parity and Prohibition of Violence against Women' presented by Abiodun Olujimi, a senator from Ekiti state.
He explained that crisis usually occurs when couples who had performed both traditional and religious marriage rites find themselves in the middle of a divorce.
While explaining the content of her bill, Olujimi, who is the deputy minority whip of the senate, said that it seeks equal rights for women in marriage, education and job.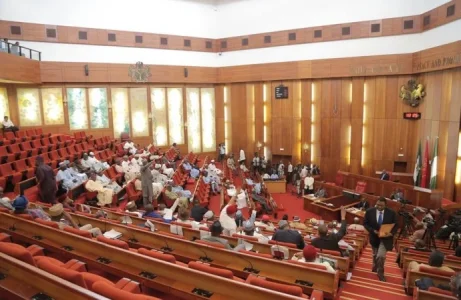 In her bill, she said that a widow would automatically become the custodian of children in the event of the death of her husband, and would also inherit his property.
Sani Yerima, a senator from Zamfara state, expressed aversion to the bill, arguing that it was in conflict with the Nigerian constitution.
He explained that the bill negates the principles of the Sharia law, which the constitutions regards.
Senate President Bukola Saraki put the bill to a vote, to which the opposing senators shouted a thunderous "nay", and subsequently had their way.