The All Progressives Congress members of the House of Representatives clashed with their Peoples Democratic Party colleagues on Thursday over the Minister of Transportation, Mr. Rotimi Amaechi.
According to PUNCH, Amaechi, who appeared before the joint Committee on Marine/Land Transport to defend the 2016 budget proposals of the ministry, but the lawmakers tried to turn the session into a venue for political party supremacy battle.
The APC members, who control the majority of 213, out of the 360-member legislature, felt that the former Rivers State governor deserved some protection from the committee, as he came under a barrage of questions.
The APC lawmakers complained that too many questions were being thrown at the minister.
However, some PDP members suddenly flared up, arguing that the minister could be asked any question.
The PDP were led by Mr. Pat Asadu (Enugu State) and Mr. Nnana Igbokwe (Imo State).
The development came as the House Committee on Aviation rejected a proposal by the Nigerian Civil Aviation Authority to spend N130m this year to conduct a security audit on the nation's airports.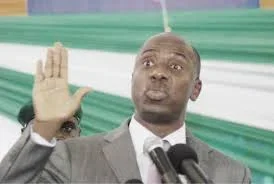 The Chairperson of the committee, Mrs. Nkeiruka Onyejeocha, recalled that in 2015, a similar proposal was submitted by the agency.
She said, "I can see you people have brought this matter of security audit again, and I remember querying it last year.
"How can you spend this much on the airports even when 22 out of the 32 airports are shut down with no operation going on whatsoever?", she asked.
- PUNCH