Nigeria's Minister of state for Petroleum Kachikwu has dissociated himself from campaign posters for Delta State 2019 Governorship elections that have been sited in Abuja.
In a statement released by his Director of Press, Ministry of Petroluem Resources, Idang Alibi, The Minister affirmed his commitment to the current restructuring in the oil and gas sector as well as his firm support for the presidency under President Buhari and Acting President Osibanjo.
A week can be a long time in politics.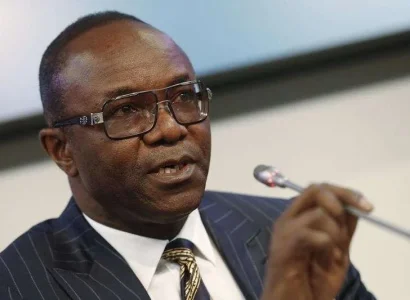 Statement:
"The office of the Honourable Minister of State for Petroleum Resources hereby dissociates itself from the campaign posters which he has absolutely no knowledge of. The Honourable Minister of State for Petroleum Resources has not indicated any interest in running for any elective political office in Delta State.
"Dr Kachikwu is focused on delivering on the reforms currently being implemented in the petroleum sector under the leadership of President Buhari and Ag President Osinbajo in line with his duties as Minister of State for Petroleum Resources and Chair of the Board of the Nigerian National Petroleum Corporation (NNPC).
"He remains committed to effectively representing his state of origin, Delta State in the federal cabinet to institutionalise transparency, accountability and productivity in the Nigerian oil and gas sector.
"It is gratifying that, despite challenges, measurable progress has been made in achieving important milestones under Kachikwu's watch and today, the petroleum sector is more transparent and contributes more to the national coffers. Consolidating on this progress remains the priority of Dr. Kachikwu and he refuses to be distracted from this focus.
"Dr. Kachikwu would like to urge stakeholders in both the Oil and Gas sector and indeed the general public to discountenance these unfounded speculations.
"The Honourable Minister of State for Petroleum Resources assures all Nigerians of his and Government's continued commitment to the welfare and well-being of the citizenry, while thanking them for usual cooperation and collaboration towards achieving the lofty dreams of a thriving Oil and Gas sector for Nigeria."