Africa's largest economy contracted in the first quarter as manufacturing, financial institutions and real estate declined.
Gross domestic product in Nigeria declined to -0.36 percent from a year earlier as released by the National Bureau of Statistics on Friday, 20th, April 2016.
Despite the contraction in profits, some companies still performed well during the first quarter of 2016.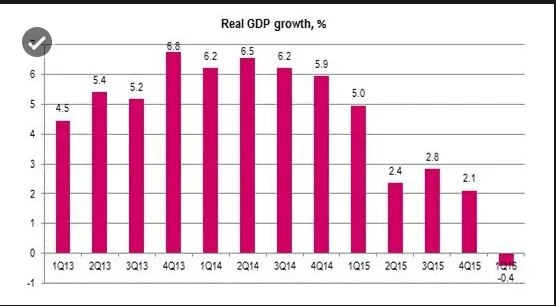 Nigeria's GDP released by NBS, May, 20th, 2016
Here are the names of the such companies
Nestle Nigeria - Nestle Nigeria, the subsidiary of Swiss-based food and beverage giant, Nestle released its financial statement for the first quarter ended March 31, 2016, showing that after-tax profit rose 126 percent year-on-year to N6.68 billion in Q1 of 2016.


Dangote Sugar - announced a 41% growth in profit in the first quarter of 2016 despite the challenging operating environment.


Nigerian Breweries - Nigerian Breweries (NB) Plc has posted a revenue of N77.55 billion and profit after tax of N10.45 billion in its first quarter operations.


Gtbank - announced N30.68 billion 1st Quarter, 2016 profit. A review of the 1Q 2016 result shows that the Bank continued to consolidate on its position as one of the most profitable and well managed financial institutions in Nigeria, recording moderate growth from its core banking activities.


Honeywell Flour - Honeywell announced first quarter 2016 sales of $9.5 billion and earnings per share (EPS) up 9% to $1.53. The company also raised its 2016 EPS guidance to $6.55 - $6.70, Up 7% - 10% It had a strong start for 2016.


United Capital Plc – posted pre-tax profit for the first quarter ended March 31, 2016, rose 59 percent year-on-year to N1.42 billion compared with N892.45 million reported in Q1 2015.


Diamond bank - announced a profit before tax of N6.7 billion for the first quarter ended March 31, 2016.
Last edited: