The National Judicial Council, NJC, has issued a serious warning to three Justices and placed them on watch list for different offences based on petitions against them.
The ar:
1. M. N. Esowe of the National Industrial Court - Given serious warning
2. Justice Adolphus Enebeli of the Rivers State High Court of Justice
3. Justice Bassey Frank Etuk of the Akwa-Ibom State High Court.
The NJC however, discontinued the probe of Justice T. U. Uzokwe, Chief Judge, Abia State; Justice Okoroafor of the Abia State High Court and Justice Jude Okeke of the FCT High Court.
The homes of the suspended judges were in the midnight of October 8, 2017 raided by the DSS, where the sum of N271.7million in both local and foreign currencies were allegedly recovered.
Related:
NJC Gives Reasons Why Suspended Judges Were Recalled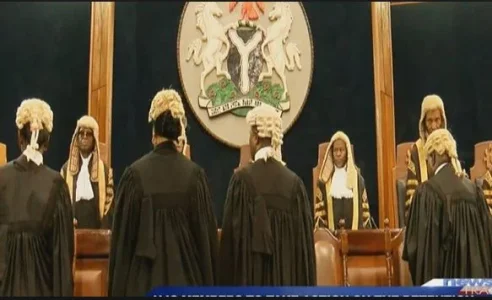 The DSS said the raids were conducted after a series of "sting operations" targeting judges of Supreme, Appeal and High Courts who were being watched for "corruption and other acts professional misconduct."
"We have been monitoring the expensive and luxurious lifestyle of some of the judges, as well as complaints from the concerned public over judgments obtained fraudulently," an official of the service, Garba Abdullahi, had said.
The development threw the country's judiciary into chaos, with lawyers expressing divergent views.