Nnamdi Kanu, is the Leader of the Indigenous People of Biafra and Director of Radio Biafra and is in charge of the running of the organization who is currently facing various criminal charges from the Nigerian government.
In this report by PUNCH Newspaper, he revealed the IPOB organizational structure and hierarchy to the DSS during one of his interrogation.
He said: "I can confirm that the office of the Director sits at the apex."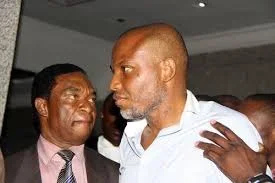 Nnamdi Kanu
, Leader of IPOB and Director of the Radio Biafra
Others include:
Mazi Udanna Asiegbu:
the office of the CoC, which translates into the Co-ordinator of Co-ordinators and under him comes the Continental Representatives resident in Spain.
North America is represented by Mr.
Nnamaram Ugochukwu
resident in Dallas, Texas.
South America, by
Leornard Aniemene
, who is resident in Trinidad and Tobago.
Clifford Iroanya
, the Coordinator of Coordinators, is resident in Houston Texas, USA.
Europe is represented by
Mazi Edoziem
in Switzerland;
Asia continent is represented by
Onyinyechi Nlebedim
in Malaysia
Australia is represented by
Austin Ofomah
, who resides in Canberra, Australia
Source