The leader of the Indigenous People Of Biafra (IPOB), Nnamdi Kanu has been granted bail with strict conditions on health grounds by a Federal High Court, Abuja.
Justice Binta Nyako ruled that one of the sureties must be a senior and highly recognised Nigerian of Igbo decent, the second surety must be a highly recognised believer in Judaism, while the third must be resident with landed property in Abuja.
Others conditions include:
1. Each of the sureties are to deposit N100million each.
2. Kanu, was expressly barred from attending any rally or granting any form of interview.
3. He must not be in a crowd exceeding 10 persons.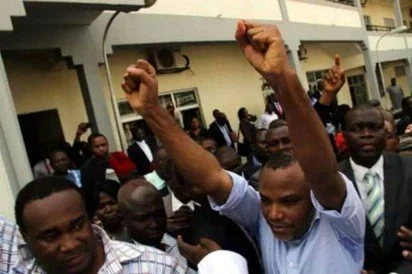 4. He won't be given back his passport and not allowed to grant press interviews according to bail conditions
5. Radio biafra director, Nnamdi Kanu will be allowed to go home after meeting bail conditions as a result of negotiations with Federal government.
Finally, Justice Nyako states that Radio Biafra, Nnamdi Kanu could arrested if he violates bail conditions.
Justice Nyako equally held that Kanu who has been in detention since October 14, 2015, when he was arrested by security operatives upon his arrival to Nigeria from the United Kingdom, must sign an undertaken to make himself available for trial at all times.
Kanu was ordered to surrender his Nigerian and British international passports, even as the court compelled FG to return to him, his wedding ring and reading glasses. However, Kanu's co-defendants, Chidiebere Onwudiwe, Benjamin Madubugwu and David Nwawuisi were denied bail by the court which has fixed July 11 and 12 to commence their trial.