Ifeanyi Ejiofor, one of the lawyers representing the leader of the Indigenous People Of Biafra (IPOB) Nnamdi Kanu today told the court that he was often harassed by the Department of State Security (DSS) whenever he went to visit his client.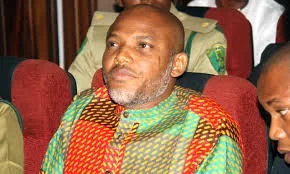 Also, concurring to Ejiofor, another of Kanu's lawyer, Barrister Maxwell Opara said "Many times, the DSS will ask you for your name, your thumb print, they even asked for my village address, a lawyer, my lord."
''My lord, this is just a criminal trial, all this unnecessary tension is uncalled for.
"You go to the prison to see your client by 9am and you will not see him until 12 noon," Opara said.