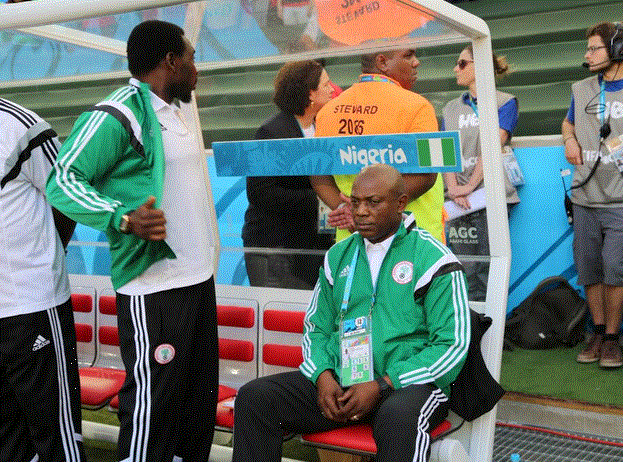 Reports have emerged that Stephen Keshi will be offered a new deal after the first two 2015 Nations Cup qualifiers,and he is set to earn about N6million per month.
Keshi this week agreed to coach the Super Eagles for the qualifiers after the Sports minister Tammy Danagogo pleaded with him to rescind his decision about walking away from the team.
Contract talks between the Nigeria Football Federation(NFF) and Keshi broke down,with both parties failing to reach an agreement over a new deal.
There were claims that Keshi wanted as much as N15million monthly which didn't go down well with the NFF who were only willing to pay him what he earned in his previous contract,N5million.
Danagogo claimed that the past executive board of the NFF led by Aminu Maigari,were not willing to renew Keshi's contract.
"We all know that Keshi's contract expired after the World Cup and we were trying to see whether they will negotiate with him, then Maigari was suspended. Umeh came in and reopened talks with him. "
"They said they cannot pay. But we have a match on September 6 so I had to intervene."
The minister admitted that he waded in to have Keshi at least coach the Super Eagles for the qualifiers
"I asked Keshi if he was desirous to handle the team again and he said yes. I then asked him to come, assuring him that I will take care of what it takes for him to handle the team for the two matches we have in September after which we can talk about the contract."
Although he did say that the NFF will determine other variants like Keshi's accommodation,paying his assistants and his official car,he further stated that the increment in Keshi's salary won't be a problem.
"It is just about N1 million Naira and we believe that it is no longer a challenge"the minister said.