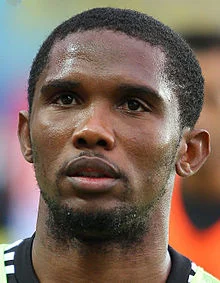 Upon sealing a two-year deal with Everton,Cameroonian striker Samuel Eto'o has thanked Jose Mourinho for giving him come to the English Premier League.
Mourinho signed Eto'o from Russian side Anzhi Makhachkala last season,before both men fell out over age claims.
The Portuguese insinuated that Eto'o could be above the age that he is claiming to be,which infuriated the player.
It led to Eto'o calling Mourinho a "fool" following the fallout,and the former Barcelona player was released by Chelsea after the expiration of his one-year deal last month.
However,after sealing a move to Everton on Tuesday,Eto'o acknowledged that Mourinho played a vital role in him coming to the Premiership.
"The only thing to say about Jose Mourinho is to thank him. It's down to Jose Mourinho that I had the opportunity to integrate into the Premier League," Eto'o said in his first news conference since joining Everton.
On why he chose Everton,he said: "First and foremost I want to play football. I met Roberto Martinez [Everton manager] and his views correspond with mine on football.
"I can see Everton as a winning team and I want to continue that winning streak."
Eto'o could even make his debut for Everton in their game against Chelsea this weekend.