President Muhammadu Buhari as at his latest trip to the United Kingdom for medical follow-up, has asked the Minister of State for Petroleum Resources, Dr. Ibe Kachikwu to take up "go ahead with some critical decisions, including, but not limited to overseeing the forthcoming oil bloc allocations if necessary", New Telegraph has gathered.
According to investigation, the ill-health of President Muhammadu Buhari has placed critical oil industry decisions that were hitherto of the exclusive reserve of a substantive oil minister on Dr. Ibe Kachikwu.
New Telegraph also gathered that this development is unsettling some Northern cabal who are known as the "president's men."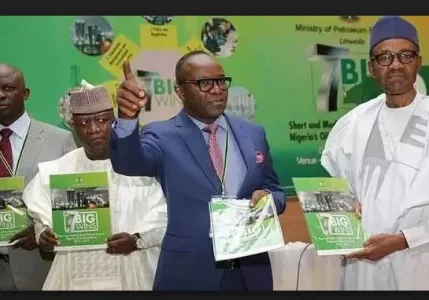 A source at the Presidency told the newspaper that the announcement of Kachikwu as a substantive minister, which is likely on the President's return, would largely depend on the way he discharges responsibility now that the president is away. A cabal in the Presidency, members of whom are majorly of Northern extraction, he stated, is opposed to these developments.
"They murmured when the President allowed Dr. Kachikwu to take over as the substantive Chairman of the Board of the Nigerian National Petroleum Corporation (NNPC) because the post is for a substantive minister. Now they are greatly unsettled that the status of a full minister has fallen on his laps, particularly due to the ill-health of the President who is abroad on an indefinite medical trip," he said.