The Nigeria Prisons Service has explained why they handcuffed the National Publicity Secretary of the Peoples Democratic Party, Chief Olisa Metuh while appearing for his trial at the Federal High Court in Abuja on Tuesday
The NPS spokesman, Francis Enobore, said the officer in charge of the escort that took Metuh to court was at liberty to determine if the inmate should be handcuffed based on security situation, the environment and intelligence report made available to him.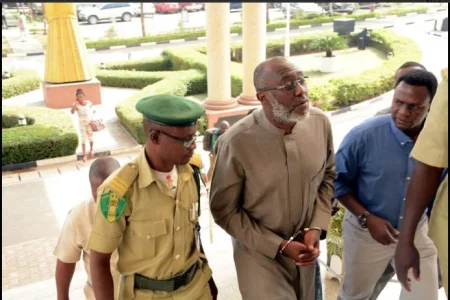 "If you suspect that the atmosphere, security-wise, may not be conducive to the inmates in your custody, you can use handcuffs; to avoid a situation where you have to start telling stories, you use your discretion to study the environment and take appropriate measures to ensure the safety of the inmates in your custody.
Enebore, speaking with PUNCH said: "we not only try to secure the inmate from escaping, we equally provide protection for the inmate. The officer in-charge must ensure that the life of the inmate is not jeopardised. It is the officer in-charge of the escort that studies the security environment and takes the decision to use handcuffs".
Source:
PUNCH Newspaper