The Nigeria Security and Civil Defence Corps (NSCDC) has refuted a report making the rounds that one of its personnel was involved in a shooting incident at a filling station in Lagos.
The spokesperson of NSCDC, Mr Emmanuel Okeh, told the News Agency of Nigeria (NAN) in Abuja that no officer of the corps was involved in the incident, which took place on Wednesday at the Forte Oil Filling Station in Festac Town.
"We received information from our Lagos State Command when we started seeing some online publications alleging that a female Civil Defence officer shot dead somebody in Lagos.
http://www.nigerianbulletin.com/thr...rte-oil-station-in-festac-lagos-photo.198515/
Related:
Fuel Scarcity: NSCDC Officer Kills Man at Forte Oil station in Festac,Lagos [PHOTO]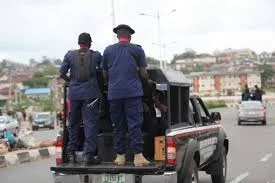 "But from our investigation, we discovered that there was a shady deal at a filling station, the Forte Oil Filling Station in Lagos, at 21 Avenue Festac Town where the Okada riders went to buy fuel.
"They discovered that the filling station operatives were not actually attending to motorists and okada people, rather they were dispensing mainly to black marketers with jerry cans, and other things".
"The okada riders themselves went to our office to lay the complaint".
"Our special task force then moved to the station to ensure that area was coordinated and effectively monitored.''
Okeh said that while the task force was in the process of carrying out its duty, some hoodlums, who were outside the filling station went on the rampage, which led to pandemonium and shooting ensued.