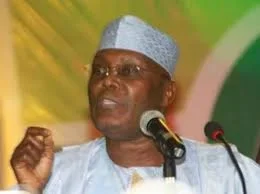 Former Vice President Atiku Abubakar has warned against the excessive use of power by the Peoples Democratic Party (PDP) led federal government, a tendency, which he said, was not good for decent democratic practice.
Atiku, who was reacting to the impeachment of Governor Murtala Nyako of Adamawa State, said in a statement by his media office in Abuja that wielding the axe of impeachment against elected public office holders to settle scores by the PDP-led federal government would needlessly build up tension in the country.
The former Vice President said the reckless use of impeachment to settle scores could not have been the intention of the framers of the 1999 Constitution.
Click here to read more
Source; The Nation