According to City News, scores of corps members were injured in Abuja in a stampede on Friday during a bio-metric capturing exercise for the payment of their monthly allowance.
The NYSC had introduced the exercise to check cases of impersonation and other fraudulent activities during payment of monthly allowances. It has been on for the last three months, with Abuja and Lagos as experimental states.
It was gathered that most of the 7,000 corps members serving in the FCT had reported to the orientation camp, the only centre for the exercise in the FCT, as early as 3am to get numbers in order to be attended to early. The exercise is expected to last for five days.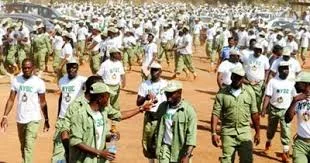 One of the victims, who craved anonymity, said she was surprised to see a large number of her colleagues the day she got to the camp as early as 6am, wondering whether some of them slept in the camp.
She said although she later succeeded in being attended to around 6pm, she sustained injuries on her legs while struggling to find her way through the crowd.
"How can they be using only three machines for not less than 7,000 corps members and expect that there will not be chaos? The number of casualties is high because of the crowd that turn out every day. Some even collapsed due to exhaustion," she added.
Source:
DailyTrust