OAP Freeze has addressed controversies surrounding his relationship with Popular Comedian Basketmouth.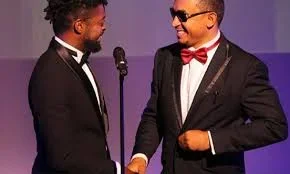 In a chat with Pulse, Freeze expressed his admiration for Basketmouth because he encouraged him when no one else would.
"You see, there's a point in the conversation that I cannot have for legal reasons, but there was an alliance that was broken and Basketmouth took the other side or it appeared to me that he did, and he never gave me a call.
"This is my guy, he never gave me a call to say why did you do this or why did you not do this and I felt slightly slighted. I remember when he was driving a Jetta and I was driving a golf.
"I am talking about 20-year-old cars basically.
"He is an amazing talent I must say and I watched that talent grow from a seed into a forest that it is right now. Also, I have to give it to him, he was part of my story. He encouraged when there wasn't much encouragement.
"So I hate to hear all the stories that I am hearing about me and him. Unfortunately, if you come after me, I will come after you.
"I am reactive, with him, I am reactive with most things too, I am reactive. I am not pro-active but just know that for every action, there is an opposite and equal reaction."
"As long as he keeps…I mean you saw the shade the other day. Like really? But he is my guy, he is a great guy and I love him to death.