For organizing the burial ceremony of their father, the family of Uhumwangho from Isi village in Uhunmwode local government area of Edo State has incurred the wrath of the new Oba of Benin, Oba Ewuare II.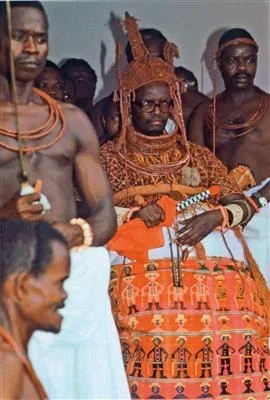 Before the coronation ceremonies of the new Oba, the palace had placed a ban on burial activities in the Benin kingdom till further notice.
It was gathered at the weekend that all was set for the burial ceremonies at Iguodala Primary school in Benin City when chiefs from the Oba's palace stormed the area and tied 'Umehe' leaves on the food, drinks and canopies.
The 'Umenhe' leaves, Daily Trust learnt, is a message of no trespass from the Oba.
Some of the family members were arrested and taken to the palace while the musician hired to provide entertainment was also dragged to the palace.
A palace source told Daily Trust reporter that the family was asked to buy some sacrificial items to cleanse the land.
It was also observed at the venue that food and drinks were on the table which the family members said nobody would touch because of the sacred leaves tied to them.
One of the arrested family members Josephine Ehimwenma said they were told by some chiefs at the palace to go on with the burial arrangements since the actual coronation had been done, but a member of the Iwebo Palace society, Chief Sunday Okhiokpamwonyi, said the family would pay some fine and postpone the burial.